Welcome To United Dairy!
Here you will find a wide range of healthy and fresh dairy products that
were proudly produced at our farm by our farmers and cows.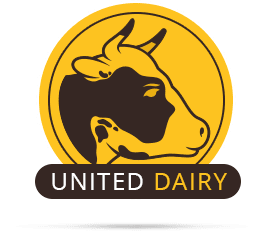 From the Farm to the Fridge in 24 Hours
At United Dairy we are so fortunate to be located in the heart of the farm country nestled in the Appalachian hills. We are surrounded by the best family owned dairies that take pride in the high quality dairy products they produce. Every nutrient packed, antibiotic and artificial growth hormone-free gallon of milk comes from farms located within 100 miles of our United Dairy plants. We are committed to selling local milk from local farms to ensure the freshest product from your community.
Trusted by Athletes. Backed by Science.
Our chocolate milk has the right mix of carbs and protein to refuel with fresh ingredients not designed in a lab. With our chocolate milk you can go the extra mile. More that 20 studies support the benefits of recovering with the high-quality protein and nutrients in Chocolate Milk after a tough workout. Recover after giving it your all with Chocolate Milk.
About Us
No Antibiotics or Artificial Growth Hormones*
We are proud of our family owned farms that produce excellent quality milk that is wholesome, delicious and packed with essential vitamins and minerals and FREE of artificial growth hormones. Our Farmers pledge that our milk come from cows that do not receive artificial growth hormones.
Our Story
Nearly sixty years ago a small dairy began in a river front town between the Ohio Valley and the hills of West Virginia. The dairy's roots began with families coming together to produce a product that they would be proud of. Over the years United Dairy has grown larger and expanded all the while supporting local farmer and local employees.