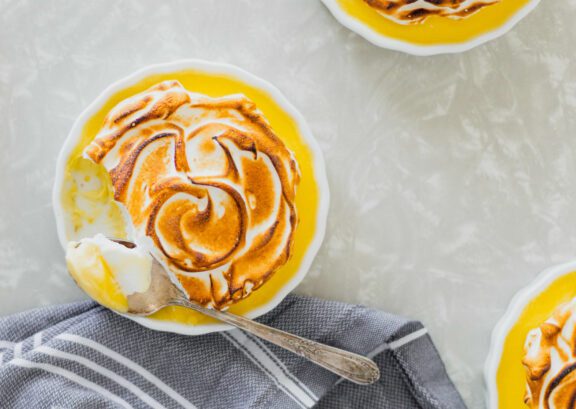 Lemon Meringue
Crème Brûlée
Prep Time
4 hrs 20 min
Cook Time
25 min
Serves
4
Ingredients
Custard
1 ½ cups Tuscan heavy whipping cream
6 tablespoons sugar
6 egg yolks
2 teaspoons grated lemon peel
½ teaspoon lemon extract
Meringue
½ cup sugar
2 egg whites
3 tablespoons water
How to
Heat oven to 300°F. Place 4 (7-ounce, 5-inch round) shallow ramekins on 15x10x1-inch baking pan; set aside. In tea kettle or large saucepan bring about 4 cups water to a boil.
To make custard, in 1-quart saucepan stir together whipping cream and 3 tablespoons sugar; cook over medium heat just until hot.
Meanwhile, in medium bowl whisk together remaining 3 tablespoon sugar, egg yolks, lemon peel and lemon extract. Whisking constantly, slowly pour mixture into hot cream mixture being careful not to cook eggs. Divide custard among ramekins. Place baking pan with filled ramekins halfway into oven; pour boiling water into baking pan halfway up sides of ramekins to create a water bath. Bake for 18 to 20 minutes or until edges of custard are set and center jiggles only slightly. Remove ramekins from oven and water bath; place on wire rack. Cool completely. Cover; refrigerate at least 4 hours or overnight.
When ready to serve make meringue. In small mixer bowl beat sugar, egg whites and water on high speed until soft peaks form (about 5 minutes). Dollop or pipe meringue on top of custard. Using kitchen torch carefully toast meringue. Or, heat broiler; place ramekins under broiler. Broil for 2 to 3 minutes or until lightly toasted.
Recipe and image provided by Half & Half magazine.