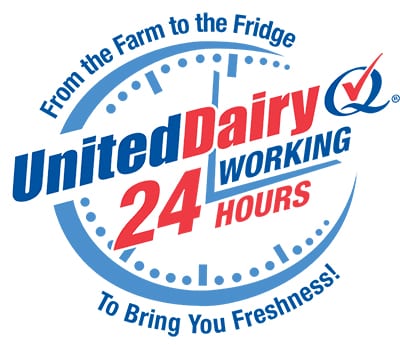 United Dairy's Milk contains No Antibiotics or Artificial Growth Hormones

We're proud of our family-owned farms that produce excellent quality milk that is wholesome, delicious, and packed with essential vitamins and minerals, and free of antibiotics or artificial growth hormones.
From the Farm to Your Fridge: Sustainability at United Dairy
At United Dairy, goodness starts from the inside with our high-quality products that have been a family tradition for over sixty years. We care deeply about preserving resources for future generations, that is why we introduced our new packaging, the EcoJug, which is greatly minimizing our impact on the environment.
We work hard to reduce waste, reuse resources, and recycle what we can so that those same future generations will be able to enjoy the same high-quality milk you enjoy today.
At United Dairy, we are:
Reducing energy consumption with energy-efficient light bulbs, motors, fans, pumps, and compressors.
Recycling milk crates, batteries, oil, paper, cardboard, aluminum, and more than two million pounds of plastic.
Implementing packaging reduction initiatives and use of alternative packaging materials
Practicing manufacturing and distribution energy reduction initiatives
Participating in industry sustainability initiatives
Practicing waste and government management initiatives
Check out what United Dairy is Saving

Our independent family-owned dairy strives to preserve and protect precious resources, here's are some results of our efforts.
Last year we:
Saved 508,000 pounds of resin
Saved 115 million gallons of water
Recycled 2,000 batteries
Recycled 31,000 gallons of oil
Recycled 2,500 tons of cardboard
Recycled 117,922 pounds of office paper
Recycled 2 million pounds of plastic
Recycled 6,000 pounds of aluminum
Want to Know Where Your Milk Comes From? From the Farm to the Fridge in 24 Hours
At United Dairy we are so fortunate to be located in the heart of farm country nestled in the Appalachian hills. We are surrounded by excellent family-owned dairies that take pride in their high-quality dairy products.
Every nutrient-packed, antibiotic and artificial growth hormone-free gallon of milk comes from farms—all located within 100 miles of United Dairy plants. Our commitment is to sell local milk from local farms to ensure that you enjoy fresh milk from your community which helps keep their doors open and their workers employed. Click here to Meet Our Farmers.
At United Dairy we are committed to providing our consumers and customers high-quality products and services. We offer high-quality beverages for the entire family and take pride in ourselves on being fluid milk experts. For more information about our Certifications, click here.
FARM and You
FARM works with our dairy producers, to demonstrate the highest standards on U.S. dairy farms. Through our partnership, we demonstrate the highest standards on dairy farms and work hard to protect the environment for generations to come. Click the link for more information.