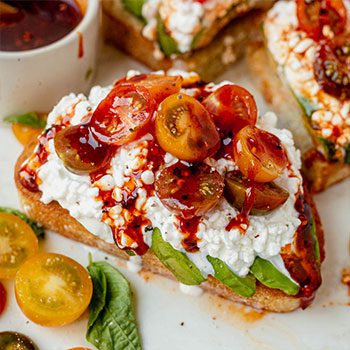 Cottage Cheese Toast
Total Time
10 min
Serves
1
Ingredients
HOT HONEY:
2 tablespoons unsalted butter
5-6 cloves minced garlic
1 teaspoon smoked paprika
¼ teaspoon cayenne pepper
1 teaspoon chili flakes
¼ cup honey
2 teaspoons apple cider vinegar
COTTAGE CHEESE TOAST:
1 slice sourdough bread or crusty bread
1 tablespoon unsalted butter melted
1 garlic clove peeled
½ avocado peeled and thinly sliced
½ cup cottage cheese whole milk, 2%, or fat free
¼ cup sliced cherry tomatoes
How to
Start by making the hot honey. Add the butter to a pan and melt over medium heat. Add the garlic and crisp it for 1-2 minutes, until fragrant and golden brown. Turn the heat up to medium-high and add the spices and chili flakes and cook for another minute. Stir in the honey then remove from the heat and stir in the apple cider vinegar. Allow it to cool slightly while you make the toast.
Preheat the oven to broil. Use a pastry brush to brush the melted butter on top of the bread. Place it on a baking sheet and toast under the broiler for 4-6 minutes. Keep a frequent eye on the toast to prevent it from over-browning. Remove it from the oven when the edges and top are slightly golden brown.
Carefully remove it from the oven and immediately rub a clove of garlic on the surface of the bread.
Allow the toast to cool slightly then arrange the avocado evenly on top in a single layer. You could also mash the avocado and spread it on.
Add a spoonful of cottage cheese and spread it to the edges. Place the sliced tomatoes on top of the cottage cheese. Drizzle the toast with hot honey and sprinkle with flaky sea salt before serving.
Recipe and image provided by Drink-milk.com online.